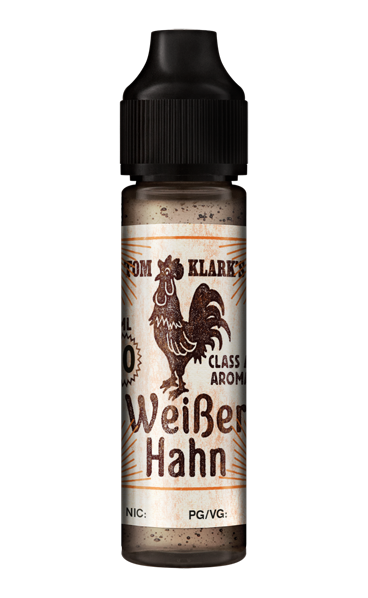 Prices incl. VAT plus shipping costs
Labelling under CLP-Regulation:
Enthält (R)-p-Mentha-1,8-dien. Kann allergische Reaktionen hervorrufen.
Causes serious eye irritation.
Flüssigkeit und Dampf entzündbar.
Harmful if swallowed.
May cause an allergic skin reaction.
Verursacht Hautreizungen
Causes serious eye damage.
Gesundheitsschädlich bei Einatmen
Order number:

TK_WEISSER_HAHN_A-10ml
Lieferumfang : 10ml: 60ml Flasche mit Inhalt; 10ml Aroma (Long-Fill) 100ml: 100ml Aroma, 1L...
more
Lieferumfang:
10ml: 60ml Flasche mit Inhalt; 10ml Aroma (Long-Fill)
100ml: 100ml Aroma, 1L Braunglas-Flasche (leer) zum Mischen, 30ml PET-Flasche (leer) für unterwegs.
Alle Preise inkl. 0,16€/ml - Steuer für Tabaksubstitute.
WEIßER HAHN
Wie sein dunkler Bruder ist auch der Weiße Hahn ein Tabak-Liquid, das allein durch das Zusammenführen unterschiedlicher Tabakaromen kreiert wurde.
Der Weiße Hahn ist ein klassischer, delikater Tabakgenuss, der es ermöglicht, die gewohnte Nikotinstärke bis auf ein Drittel zu reduzieren, ohne dabei etwas zu vermissen. Es wird daher empfohlen, dieses Liquid mit geringeren Nikotinstärken zu dampfen, damit es seinen Geschmack in ganzer Pracht entfalten kann.
Der Weiße Hahn besitzt einen herben, rauchigen Grundcharakter, entwickelt sich dann jedoch heller und bunter als der Schwarze Hahn. Seine Noten sind blumig bis hin zu leicht würzig. Durch das Zusammenspiel der verschiedenen Tabaknoten entsteht eine unglaubliche Aromenvielfalt, hinter der sogar eine dezente Frische zum Vorschein kommt.
Zugleich nimmt man eine undefinierbare und dennoch vertraute Geschmackstiefe wahr, die beim Ausatmen des samtigen Rauchs ein Gefühl der Gelassenheit hervorruft.
"Das Tabakrauchen ist eine uralte Tradition, die in den verschiedensten Kulturen auf der Erde tief verwurzelt ist. Es besteht eine tiefe Verbindung zwischen Tabak und Geselligkeit, Genuss und dem Zelebrieren des Moments."
Die Base
Im Gegensatz zu fertigem Liquid ermöglichen es Aromen ausgiebig mit Base und Nikotin zu experimentieren und jedes Liquid individuell und perfekt auf sich abzustimmen.
Basen können sehr unterschiedlich schmecken und als größter Bestandteil von Liquid haben sie auch einen großen Einfluss auf den Geschmack. Es ist daher empfehlenswert verschiedene Basen mit demselben Aroma auszuprobieren, um die beste Kombination für sich zu finden. Hier bietet sich an, einen kurzen Dampftest mit reiner Base (ohne Nikotin) durchzuführen, um zu bestimmen, wie süß oder herb eine Base ist.
Im Falle, dass ein Liquid zu stark oder intensiv ist, besteht immer die Möglichkeit den Basenanteil im Verhältnis zum Aroma leicht zu erhöhen.
Achtung; hier nur in kleinen Schritten arbeiten!
Empfohlenes Verhältnis der Base; 30/70 (PG/VG)
Mischungsverhältnis 1:5
Für 60ml: 10ml Aroma mit 50ml Base/ Nikotin Shots auffüllen
Für 600ml: 100ml Aroma mit 500ml Base/ Nikotin Shots auffüllen

1x 10ml (18mg) neutralen Nikotin Shot + 40ml neutrale Base: 3mg Liquid
2x 10ml (18mg) neutralen Nikotin Shot + 30ml neutrale Base: 6mg Liquid
3x 10ml (18mg) neutralen Nikotin Shot + 20ml neutrale Base: 9mg Liquid
4x 10ml (18mg) neutralen Nikotin Shot + 10ml neutrale Base: 12mg Liquid

Aromen niemals pur dampfen!
Read, write and discuss reviews...
more
Customer evaluation for "Weißer Hahn Aroma"
Write an evaluation
Evaluations will be activated after verification.