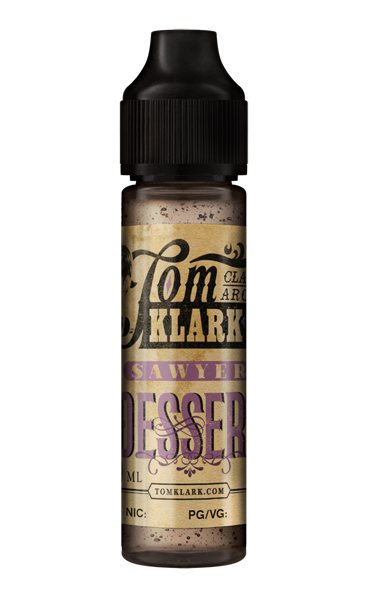 Prices incl. VAT plus shipping costs
Labelling under CLP-Regulation:
Enthält (R)-p-Mentha-1,8-dien. Kann allergische Reaktionen hervorrufen.
Harmful if swallowed.
May cause an allergic skin reaction.
Order number:

TK_DESSERT_A-10ml
Lieferumfang : 10ml: 60ml Flasche mit Inhalt; 10ml Aroma (Long-Fill) 100ml: 100ml Aroma, 1L...
more
Lieferumfang:
10ml: 60ml Flasche mit Inhalt; 10ml Aroma (Long-Fill)
100ml: 100ml Aroma, 1L Braunglas-Flasche (leer) zum Mischen, 30ml PET-Flasche (leer) für unterwegs.
Alle Preise inkl. 0,16€/ml - Steuer für Tabaksubstitute.
DESSERT
Mit Tom Klark's "Dessert" ist die Sawyer-Serie vollständig. Es ist das letzte Liquid, das Tom Klark für seine "Sawyer-Serie" entwickelt hat.
Wie bei all seinen Liquids ist es auch hier fast unmöglich den Geschmack des Liquids in eine Schublade einzuordnen, doch das Wort "Dessert" beschreibt es am besten: Schokoladentorte, Gebäck, Tiramisu, Eiscreme, kandierte Früchte, Crème Brulée, oder einfach ein Cappuccino.
Es unterscheidet sich durch seine Intensität von den anderen Liquids und ist wahrscheinlich das direkteste und intensivste der Serie.
Mein Tipp zu Dessert:

Da man Dessert zu den milderen Sorten zählen kann, rate ich auch hier vom Mischverhältnis von 30/70 (PG/VG) nicht zu stark abzuweichen. Dies gilt in erster Linie der Amaretto-Note, welche hierdurch in Balance gehalten wird. Aufgrund seiner milden Beschaffenheit ist es auch nicht von Nöten, mehr Raum für die Base zu schaffen.
Für mich bietet sich eine neutral- bis süße Base zum Mischen hervorragend an. Am Ende entscheidet selbstverständlich der Geschmack, wie sehr es nach Süßem beliebt.
Euer Tom
Die Base
Im Gegensatz zu fertigem Liquid ermöglichen es Aromen ausgiebig mit Base und Nikotin zu experimentieren und jedes Liquid individuell und perfekt auf sich abzustimmen.
Basen können sehr unterschiedlich schmecken und als größter Bestandteil von Liquid haben sie auch einen großen Einfluss auf den Geschmack. Es ist daher empfehlenswert verschiedene Basen mit demselben Aroma auszuprobieren, um die beste Kombination für sich zu finden. Hier bietet sich an, einen kurzen Dampftest mit reiner Base (ohne Nikotin) durchzuführen, um zu bestimmen, wie süß oder herb eine Base ist.
Im Falle, dass ein Liquid zu stark oder intensiv ist, besteht immer die Möglichkeit den Basenanteil im Verhältnis zum Aroma leicht zu erhöhen.
Achtung; hier nur in kleinen Schritten arbeiten!
Empfohlenes Verhältnis der Base; 30/70 (PG/VG)
Mischungsverhältnis 1:5
Für 60ml: 10ml Aroma mit 50ml Base/ Nikotin Shots auffüllen
Für 600ml: 100ml Aroma mit 500ml Base/ Nikotin Shots auffüllen

1x 10ml (18mg) neutralen Nikotin Shot + 40ml neutrale Base: 3mg Liquid
2x 10ml (18mg) neutralen Nikotin Shot + 30ml neutrale Base: 6mg Liquid
3x 10ml (18mg) neutralen Nikotin Shot + 20ml neutrale Base: 9mg Liquid
4x 10ml (18mg) neutralen Nikotin Shot + 10ml neutrale Base: 12mg Liquid

Aromen niemals pur dampfen!
Read, write and discuss reviews...
more
Customer evaluation for "Dessert Aroma"
Write an evaluation
Evaluations will be activated after verification.