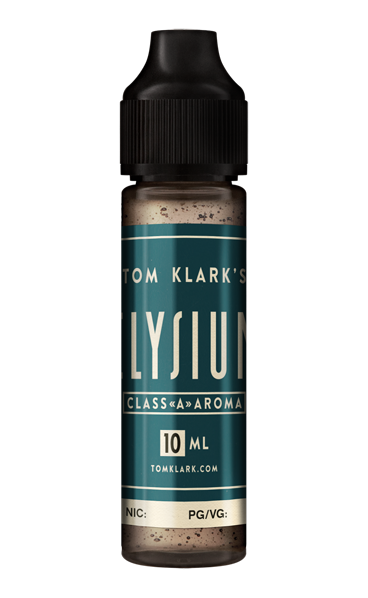 Prices incl. VAT plus shipping costs
Labelling under CLP-Regulation:
Warning
If medical advice is needed, have product container or label at hand.
Keep out of reach of children.
Wash hands thoroughly after handling.
Do not eat, drink or smoke when using this product.
IF SWALLOWED: Call a POISON CENTER/doctor if you feel unwell.
Dispose of contents/container according to local/national/international regulations.
Read label before use.
Causes serious eye irritation.
Flüssigkeit und Dampf leicht entzündbar.
Harmful if swallowed.
Gesundheitsschädlich bei Einatmen
Order number:

TK_ELYSIUM_A-10ml
Contents of shipment: 10ml: 60ml bottle with contents; 10ml aroma (long-fill) 100ml:...
more
Contents of shipment:
10ml: 60ml bottle with contents; 10ml aroma (long-fill)
100ml: 100ml aroma, 1L brown glass bottle (empty) for mixing, 30ml PET-bottle (empty) for traveling.
All prices include 0.16€/ml – tax for tobacco Substitute.
Elysium
As the name suggests, Tom Klark's Elysium liquid is an absolute pleasure.
The flavor is smooth and balanced, yet complex and intricate, without the distraction of heady top notes or need for acclimation.
Elysium harmonizes notes of honey, smoked wood, and dark chocolate to create a nuanced composition that builds with each inhalation, ushering in a sense of inner serenity.
With MTL devices, the sweet essence of honey is at the forefront, meanwhile in DL devices the liquid reveals a stronger core, with notes reminiscent of freshly rolled cigars.
Due to its subtle nature, Elysium is perfect as an all-day liquid for lasting enjoyment.
A heavenly place for both the senses and Spirit.
Mixing ratio 1:5
For 60ml: 10ml aroma with 50ml base/ nicotine shots fill up
For 600ml: 100ml aroma with 500ml base/ nicotine shots fill up
1x 10ml (18mg) neutral nicotine shot + 40ml neutral base: 3mg liquid
2x 10ml (18mg) neutral nicotine shot + 30ml neutral base: 6mg liquid
3x 10ml (18mg) neutral nicotine shot + 20ml neutral base: 9mg liquid
4x 10ml (18mg) neutral nicotine shot + 10ml neutral base: 12mg liquid
Never vape aromas pure!
The base
In contrast to ready-made liquid, aromas allow you to experiment extensively with the base and nicotine and therefore customize each liquid individually and perfectly for yourself.
Bases can taste quite different and as the largest component of any liquid, they greatly influence the taste. It is therefore recommended to try various bases with the same aroma to find the best combination for you. It is a good idea to do a short vape test with pure base (without nicotine) to determine how sweet or dry it is.
In case a liquid is too strong or intense, there is always the possibility to slightly increase the base content in relation to the flavor. Caution; only adjust in small increments!
Recommended ratio of the base: 30/70 (PG/VG)
Read, write and discuss reviews...
more
Customer evaluation for "Elysium Aroma"
From:
Kostas
On:
2 Nov 2022
The gate to something new
Elysium or Ηλύσια Πεδία for me was the first try to a new world of tastes. Swhwarzer and Weisser Hahn was the second and third. I definitely will continue the journey with whatever can find in the Greek market. Congratulations!!!
Write an evaluation
Evaluations will be activated after verification.