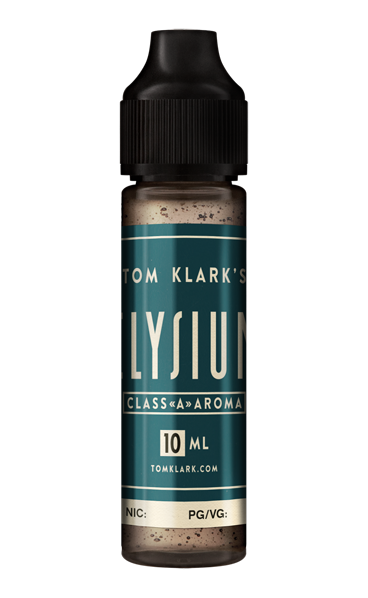 Prices incl. VAT plus shipping costs
Labelling under CLP-Regulation:
Causes serious eye irritation.
Flüssigkeit und Dampf leicht entzündbar.
Harmful if swallowed.
Gesundheitsschädlich bei Einatmen
Order number:

TK_ELYSIUM_A-10ml
Lieferumfang : 10ml: 60ml Flasche mit Inhalt; 10ml Aroma (Long-Fill) 100ml: 100ml Aroma, 1L...
more
Lieferumfang:
10ml: 60ml Flasche mit Inhalt; 10ml Aroma (Long-Fill)
100ml: 100ml Aroma, 1L Braunglas-Flasche (leer) zum Mischen, 30ml PET-Flasche (leer) für unterwegs.
Alle Preise inkl. 0,16€/ml - Steuer für Tabaksubstitute.
ELYSIUM
Wie es der Name bereits andeutet, handelt es sich bei Tom Klark's Elysium um ein absolutes Genussliquid.
Der Geschmack ist sanft, ausgewogen und doch in sich differenziert und vielschichtig, ohne die Ablenkung durch spitze Kopfnoten und ohne Eingewöhnungszeit.
Elysium vereinigt Noten aus Honig, geräucherten Hölzern und Bitterschokolade zu einer nuancierten Komposition, die sich Zug um Zug weiterentwickelt und dabei ein Gefühl der inneren Gelassenheit einläutet.
In MTL-Verdampfern stehen die sinnlichen Essenzen des Honigs im Vordergrund, in DL-Verdampfern hingegen zeigt das Liquid einen kräftigeren Kern, dessen Noten an die aromatischen Düfte einer frisch angerollten Zigarre erinnern.
Auf Grund seiner filigranen Beschaffenheit eignet sich dieses Liquid hervorragend als Allday-Liquid und damit für den dauerhaften Genuss.
Ein heiliger Ort für Geschmack und Seele
Mein Tipp zu Elysium:
Elysium gehört zu meinen intensiveren Aromen, deswegen empfehle ich hier eine neutrale- bis milde Base zu verwenden. Das Aroma besitzt eine schwere, honigartige Süße; es bietet sich somit an, der Base mehr Raum zu geben. Hier wird es auch interessant für diejenigen, die es etwas herber mögen, denn die Zigarren Note wird hierdurch intensiver, während die Honigsüße nachlässt.
Alternativ empfehle ich den PG-Anteil leicht zu erhöhen, oder 5% destilliertes Wasser beizufügen. Das sorgt dafür, dass die Süße nachlässt, ohne dass der Geschmack verloren geht.
Euer Tom
Die Base
Im Gegensatz zu fertigem Liquid ermöglichen es Aromen ausgiebig mit Base und Nikotin zu experimentieren und jedes Liquid individuell und perfekt auf sich abzustimmen.
Basen können sehr unterschiedlich schmecken und als größter Bestandteil von Liquid haben sie auch einen großen Einfluss auf den Geschmack. Es ist daher empfehlenswert verschiedene Basen mit demselben Aroma auszuprobieren, um die beste Kombination für sich zu finden. Hier bietet sich an, einen kurzen Dampftest mit reiner Base (ohne Nikotin) durchzuführen, um zu bestimmen, wie süß oder herb eine Base ist.
Im Falle, dass ein Liquid zu stark oder intensiv ist, besteht immer die Möglichkeit den Basenanteil im Verhältnis zum Aroma leicht zu erhöhen.
Achtung; hier nur in kleinen Schritten arbeiten!
Empfohlenes Verhältnis der Base; 30/70 (PG/VG)
Mischungsverhältnis 1:5
Für 60ml: 10ml Aroma mit 50ml Base/ Nikotin Shots auffüllen
Für 600ml: 100ml Aroma mit 500ml Base/ Nikotin Shots auffüllen

1x 10ml (18mg) neutralen Nikotin Shot + 40ml neutrale Base: 3mg Liquid
2x 10ml (18mg) neutralen Nikotin Shot + 30ml neutrale Base: 6mg Liquid
3x 10ml (18mg) neutralen Nikotin Shot + 20ml neutrale Base: 9mg Liquid
4x 10ml (18mg) neutralen Nikotin Shot + 10ml neutrale Base: 12mg Liquid

Aromen niemals pur dampfen!
Read, write and discuss reviews...
more
Customer evaluation for "Elysium Aroma"
From:
Kostas
On:
2 Nov 2022
The gate to something new
Elysium or Ηλύσια Πεδία for me was the first try to a new world of tastes. Swhwarzer and Weisser Hahn was the second and third. I definitely will continue the journey with whatever can find in the Greek market. Congratulations!!!
Write an evaluation
Evaluations will be activated after verification.