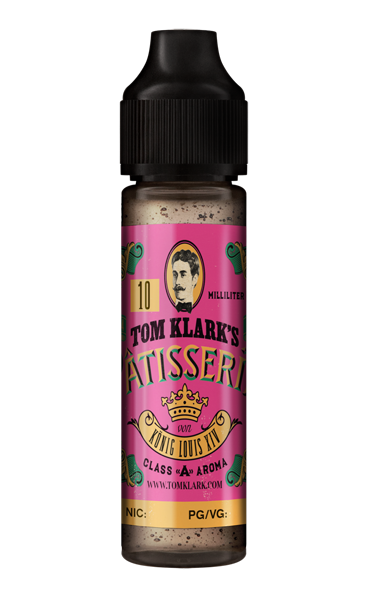 Prices incl. VAT plus shipping costs
Labelling under CLP-Regulation:
Enthält (R)-p-Mentha-1,8-dien. Kann allergische Reaktionen hervorrufen.
Causes serious eye irritation.
May cause an allergic skin reaction.
Verursacht Hautreizungen
Order number:

TK_PATISSERIE_A-10ml
Contents of shipment: 10ml: 60ml bottle with contents; 10ml aroma (long-fill) 100ml:...
more
Contents of shipment:
10ml: 60ml bottle with contents; 10ml aroma (long-fill)
100ml: 100ml aroma, 1L brown glass bottle (empty) for mixing, 30ml PET-bottle (empty) for traveling.
All prices include 0.16€/ml – tax for tobacco Substitute.

PÂTISSERIE von König Louis XIV
With Pâtisserie Tom Klark opens a new door into the world of desserts.
This liquid combines the variety and sophistication of the kind of delicacies you can only find in a French pâtisserie. At the first exhale, a subtle, toasted flavor lingers in the mouth. One tastes the richness of fluffy pastries and the notes of candied fruits, topped off with the delicate sweetness of meringue. Meanwhile a refined, slightly tart zest gives the liquid its final balance.
Like the artful and baroque King Louis XIV, who knew how to enjoy the peak of French high culture, so too do the senses unfold in this new, extraordinary creation.
The liquid is worthy of a king!
Mixing ratio 1:5
For 60ml: 10ml aroma with 50ml base/ nicotine shots fill up
For 600ml: 100ml aroma with 500ml base/ nicotine shots fill up
1x 10ml (18mg) neutral nicotine shot + 40ml neutral base: 3mg liquid
2x 10ml (18mg) neutral nicotine shot + 30ml neutral base: 6mg liquid
3x 10ml (18mg) neutral nicotine shot + 20ml neutral base: 9mg liquid
4x 10ml (18mg) neutral nicotine shot + 10ml neutral base: 12mg liquid
Never vape aromas pure!

The base
In contrast to ready-made liquid, aromas allow you to experiment extensively with the base and nicotine and therefore customize each liquid individually and perfectly for yourself.
Bases can taste quite different and as the largest component of any liquid, they greatly influence the taste. It is therefore recommended to try various bases with the same aroma to find the best combination for you. It is a good idea to do a short vape test with pure base (without nicotine) to determine how sweet or dry it is.
In case a liquid is too strong or intense, there is always the possibility to slightly increase the base content in relation to the flavor. Caution; only adjust in small increments!
Recommended ratio of the base: 30/70 (PG/VG)
Read, write and discuss reviews...
more
Customer evaluation for "Patisserie Aroma"
Write an evaluation
Evaluations will be activated after verification.