Tom Klark's Blauer Rausch Aroma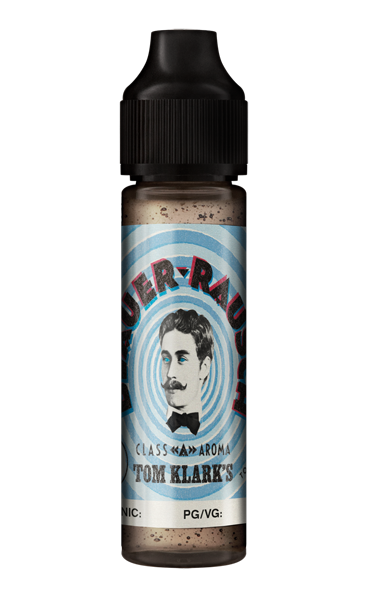 Prices incl. VAT plus shipping costs
Labelling under CLP-Regulation:
Causes serious eye irritation.
Harmful if swallowed.
May cause an allergic skin reaction.
Enthält Heliotropin, Dihydrocumarin, 3-Propylidenphthalid. Kann allergische Reaktionen hervorrufen.
Order number:

TK_BLAUER_RAUSCH_A-10ml
Contents of shipment: 10ml: 60ml bottle with contents; 10ml aroma (long-fill) 100ml:...
more
Contents of shipment:
10ml: 60ml bottle with contents; 10ml aroma (long-fill)
100ml: 100ml aroma, 1L brown glass bottle (empty) for mixing, 30ml PET-bottle (empty) for traveling.
All prices include 0.16€/ml – tax for tobacco Substitute.
Mixing ratio 1:5
For 60ml: 10ml aroma with 50ml base/ nicotine shots fill up
For 600ml: 100ml aroma with 500ml base/ nicotine shots fill up
1x 10ml (18mg) neutral nicotine shot + 40ml neutral base: 3mg liquid
2x 10ml (18mg) neutral nicotine shot + 30ml neutral base: 6mg liquid
3x 10ml (18mg) neutral nicotine shot + 20ml neutral base: 9mg liquid
4x 10ml (18mg) neutral nicotine shot + 10ml neutral base: 12mg liquid
Never vape aromas pure!

The base
In contrast to ready-made liquid, aromas allow you to experiment extensively with the base and nicotine and therefore customize each liquid individually and perfectly for yourself.
Bases can taste quite different and as the largest component of any liquid, they greatly influence the taste. It is therefore recommended to try various bases with the same aroma to find the best combination for you. It is a good idea to do a short vape test with pure base (without nicotine) to determine how sweet or dry it is.
In case a liquid is too strong or intense, there is always the possibility to slightly increase the base content in relation to the flavor. Caution; only adjust in small increments!
Recommended ratio of the base: 30/70 (PG/VG)
My tip for Blauer Rausch:
With Blauer Rausch I recommend a mild to sweet base, as it mellows some of the sharpness of the herbal notes, resulting in a smoother and more well-rounded flavor experience.
Blauer Rausch can be quite strong in some vaporizers. In this case it is often enough to add just a little extra base as needed. With fine tuning, an almost unlimited variety of exquisite herbal notes unfold, which bloom briefly and disappear just as quickly. A wonderful voyage of discovery, which stands out as an all-day liquid due to its unlimited nuances.
Sincerely, your Tom
Read, write and discuss reviews...
more
Customer evaluation for "Tom Klark's Blauer Rausch Aroma"
From:
Dave
On:
27 Sep 2022
Sehr, sehr nah dran!
Habe noch das "originale" Blauer Rausch und dieses neue Longfill daheim. Beides ausgiebig abwechselnd getestet. Nun nur noch das neue am dampfen bin ich begeistert!
Beim Longfill kommt für mich das Menthol deutlicher durch, dafür ist die weiche cremige Note etwas mehr in den Hintergrund geraten. Das ganze dreht sich aber je länger das Liquid steht immer weiter wieder Richtung Original.
Was mir besonders auffällt, ist das die erste hälfte des Tank's noch etwas anders schmeckt, die letzte hälfte dann aber zu 99,95% wie es sein soll. (Auch nach längerem stehen lassen, was anderes dampfen und danach wieder zurück zum Rausch)
Meine Vermutung: Durch die Erhitzung des Verdampfers wird das Liquid warm und im Zuge dessen passiert dann etwas damit.
Werd demnächst die 1L Flasche kaufen, als eingefleischter Blauer Rausch Fan hat mich das Aroma absolut nicht enttäuscht! :-)
Write an evaluation
Evaluations will be activated after verification.