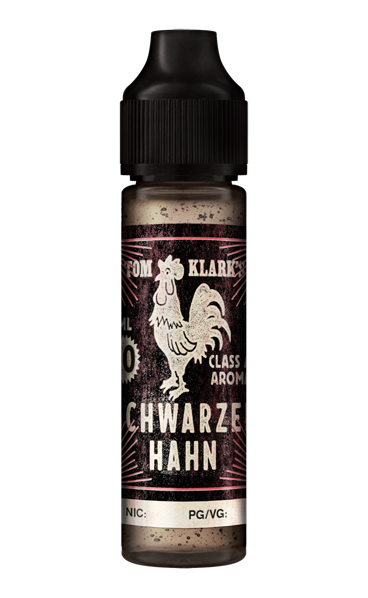 Prices incl. VAT plus shipping costs
Labelling under CLP-Regulation:
Enthält (R)-p-Mentha-1,8-dien. Kann allergische Reaktionen hervorrufen.
Causes serious eye irritation.
Harmful if swallowed.
May cause an allergic skin reaction.
Verursacht Hautreizungen
Gesundheitsschädlich bei Einatmen
Order number:

TK_SCHWARZER_HAHN_A-10ml
Lieferumfang : 10ml: 60ml Flasche mit Inhalt; 10ml Aroma (Long-Fill) 100ml: 100ml Aroma, 1L...
more
Lieferumfang:
10ml: 60ml Flasche mit Inhalt; 10ml Aroma (Long-Fill)
100ml: 100ml Aroma, 1L Braunglas-Flasche (leer) zum Mischen, 30ml PET-Flasche (leer) für unterwegs.
Alle Preise inkl. 0,16€/ml - Steuer für Tabaksubstitute.
SCHWARZER HAHN
Der Schwarze Hahn ist Tom Klarks erste reine Tabak-Kreation, die ausschließlich aus dem Zusammenspiel verschiedener Tabakaromen entstand. Das Besondere ist, dass sie durch ihren authentischen Tabakgeschmack das Nikotinverlangen beim Dampfen mindert. Das macht den Schwarzen Hahn zu einem hervorragenden Liquid für alle Tabakliebhaber und diejenigen, die ihren Nikotinkonsum reduzieren möchten.
Der Schwarze Hahn hat einen dunklen, hölzernen Kern. Darüber entfaltet sich durch die Verschmelzung der verschiedenen Tabaknoten eine zarte, an Karamell erinnernde Süße, welche die Intensität des Tabaks angenehm ausbalanciert. Die Nuancen des Liquids kommen beim Dampfen langsam, über mehrere Züge hinweg zum Vorschein, wodurch man es gleichzeitig mild und doch kräftig und vollmundig wahrnimmt.
Die unvergänglichen Charaktereigenschaften traditionellen Tabaks machen es zu einem authentischen und kompromisslosen Tabak-Liquid, das durch seinen facettenreichen Kern immer wieder aufs Neue überrascht.
Mein Tipp zum Schwarzer Hahn:
Der schwarze Hahn ist kein stärker konzentriertes Aroma als die anderen Aromen, auch wenn sein intensiver Geruch dies vielleicht vermuten lässt. Ich empfehle hier das klassische Mischverhältnis von 30/70 PG/VG und das Aroma-Basen-Verhältnis (1:5) beizubehalten.
Die bunten Noten des schwarzen Hahns können mit erhöhtem VG-Anteil minimiert und wiederum mit erhöhtem PG-Anteil hervorgehoben werden. Bei zu hohem PG-Anteil kann es jedoch passieren, dass der Geschmack zwar insgesamt sehr bunt ist, sich jedoch ebenfalls eine leichte Schärfe bemerkbar macht, was für einen Dauerdampf nicht immer erwünscht ist.
Euer Tom
Die Base
Im Gegensatz zu fertigem Liquid ermöglichen es Aromen ausgiebig mit Base und Nikotin zu experimentieren und jedes Liquid individuell und perfekt auf sich abzustimmen.
Basen können sehr unterschiedlich schmecken und als größter Bestandteil von Liquid haben sie auch einen großen Einfluss auf den Geschmack. Es ist daher empfehlenswert verschiedene Basen mit demselben Aroma auszuprobieren, um die beste Kombination für sich zu finden. Hier bietet sich an, einen kurzen Dampftest mit reiner Base (ohne Nikotin) durchzuführen, um zu bestimmen, wie süß oder herb eine Base ist.
Im Falle, dass ein Liquid zu stark oder intensiv ist, besteht immer die Möglichkeit den Basenanteil im Verhältnis zum Aroma leicht zu erhöhen.
Achtung; hier nur in kleinen Schritten arbeiten!
Empfohlenes Verhältnis der Base; 30/70 (PG/VG)
Mischungsverhältnis 1:5
Für 60ml: 10ml Aroma mit 50ml Base/ Nikotin Shots auffüllen
Für 600ml: 100ml Aroma mit 500ml Base/ Nikotin Shots auffüllen

1x 10ml (18mg) neutralen Nikotin Shot + 40ml neutrale Base: 3mg Liquid
2x 10ml (18mg) neutralen Nikotin Shot + 30ml neutrale Base: 6mg Liquid
3x 10ml (18mg) neutralen Nikotin Shot + 20ml neutrale Base: 9mg Liquid
4x 10ml (18mg) neutralen Nikotin Shot + 10ml neutrale Base: 12mg Liquid

Aromen niemals pur dampfen!
Read, write and discuss reviews...
more
Customer evaluation for "Tom Klark's Schwarzer Hahn Aroma"
Write an evaluation
Evaluations will be activated after verification.