Tom Klark's Rauchig Aroma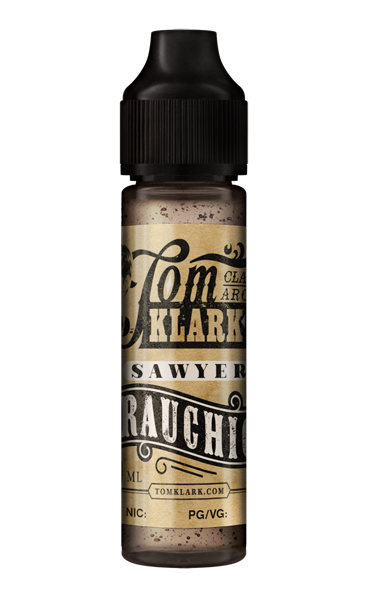 Prices incl. VAT plus shipping costs
Labelling under CLP-Regulation:
Enthält (R)-p-Mentha-1,8-dien. Kann allergische Reaktionen hervorrufen.
Harmful if swallowed.
May cause an allergic skin reaction.
Order number:

TK_RAUCHIG_A-10ml
Lieferumfang : 10ml: 60ml Flasche mit Inhalt; 10ml Aroma (Long-Fill) 100ml: 100ml Aroma, 1L...
more
Lieferumfang:
10ml: 60ml Flasche mit Inhalt; 10ml Aroma (Long-Fill)
100ml: 100ml Aroma, 1L Braunglas-Flasche (leer) zum Mischen, 30ml PET-Flasche (leer) für unterwegs.
Alle Preise inkl. 0,16€/ml - Steuer für Tabaksubstitute.
RAUCHIG
Das "Rauchig" ist das dritte Liquid, das Tom Klark entwickelt hat. Das besondere an "Rauchig" ist die neue Basenmischung, die nur für dieses Liquid hergestellt wird: Speziell für die Herstellung von diesem Liquid wird die Base vorher gereift, wodurch der einzigartige, dunkle Charakter und die holzig, rauchige Note entsteht.
Das "Sawyer -Rauchig" hat einen dunklen Charakter mit einer angenehmen, holzigen Wärme im Geschmack. Es besitzt weniger frische, bunte Fruchtfarben, und hat hingegen eine angenehme waldhonigartige Süße. Beim Ausatmen klingt es sanft fruchtig-rauchig, Weihrauch zitierend aus und man bleibt mit einem Geschmack natürlicher Früchte, geräuchertem Holz und ohne künstliche oder unnatürlicher Süße.
Mein Tipp zu Rauchig
Rauchig ist ein mildes, aber dennoch komplexes Aroma. Es war immer etwas knifflig dieses Liquid zusammenzumischen.
Um mit diesem Aroma den gewohnten Liquidgeschmack zu erreichen, empfehle ich die Verwendung einer süßen Base. Wenn man keine süße Base zur Hand hat, kann alternativ der VG-Anteil bis zu 80% erhöht werden.
Um mehr VG nutzen zu können ohne, dass das Liquid dabei zu dickflüssig wird (besonders im Winter) biete es sich an einen kleinen Teil PG mit destilliertem Wasser zu ersetzten.
Euer Tom
Die Base
Im Gegensatz zu fertigem Liquid ermöglichen es Aromen ausgiebig mit Base und Nikotin zu experimentieren und jedes Liquid individuell und perfekt auf sich abzustimmen.
Basen können sehr unterschiedlich schmecken und als größter Bestandteil von Liquid haben sie auch einen großen Einfluss auf den Geschmack. Es ist daher empfehlenswert verschiedene Basen mit demselben Aroma auszuprobieren, um die beste Kombination für sich zu finden. Hier bietet sich an, einen kurzen Dampftest mit reiner Base (ohne Nikotin) durchzuführen, um zu bestimmen, wie süß oder herb eine Base ist.
Im Falle, dass ein Liquid zu stark oder intensiv ist, besteht immer die Möglichkeit den Basenanteil im Verhältnis zum Aroma leicht zu erhöhen.
Achtung; hier nur in kleinen Schritten arbeiten!
Empfohlenes Verhältnis der Base; 30/70 (PG/VG)
Mischungsverhältnis 1:5
Für 60ml: 10ml Aroma mit 50ml Base/ Nikotin Shots auffüllen
Für 600ml: 100ml Aroma mit 500ml Base/ Nikotin Shots auffüllen

1x 10ml (18mg) neutralen Nikotin Shot + 40ml neutrale Base: 3mg Liquid
2x 10ml (18mg) neutralen Nikotin Shot + 30ml neutrale Base: 6mg Liquid
3x 10ml (18mg) neutralen Nikotin Shot + 20ml neutrale Base: 9mg Liquid
4x 10ml (18mg) neutralen Nikotin Shot + 10ml neutrale Base: 12mg Liquid

Aromen niemals pur dampfen!
Read, write and discuss reviews...
more
Customer evaluation for "Tom Klark's Rauchig Aroma"
From:
Thomas Weh
On:
29 Sep 2022
Genial
Heute zum ersten Mal das Aroma bekommen aufgefüllt mit 70/30 Nikotin da ich das Nikotin brauch geschüttelt abgefüllt in den pod und gedampft , was soll ich sagen , einfach genial so wie es früher war , denke nach paar Tagen wird es noch intensiver , dank an Tom das du dran bleibst
Write an evaluation
Evaluations will be activated after verification.